Landscaping with a Gardener's Touch
This homeowner had both a deer problem and a drainage swale. We found that the deer did not eat the Lenten rose, Anise – both gold and green, or the liriope. We lined the drainage swale with rock to stop erosion, and embellished it with a red bridge and stone steps.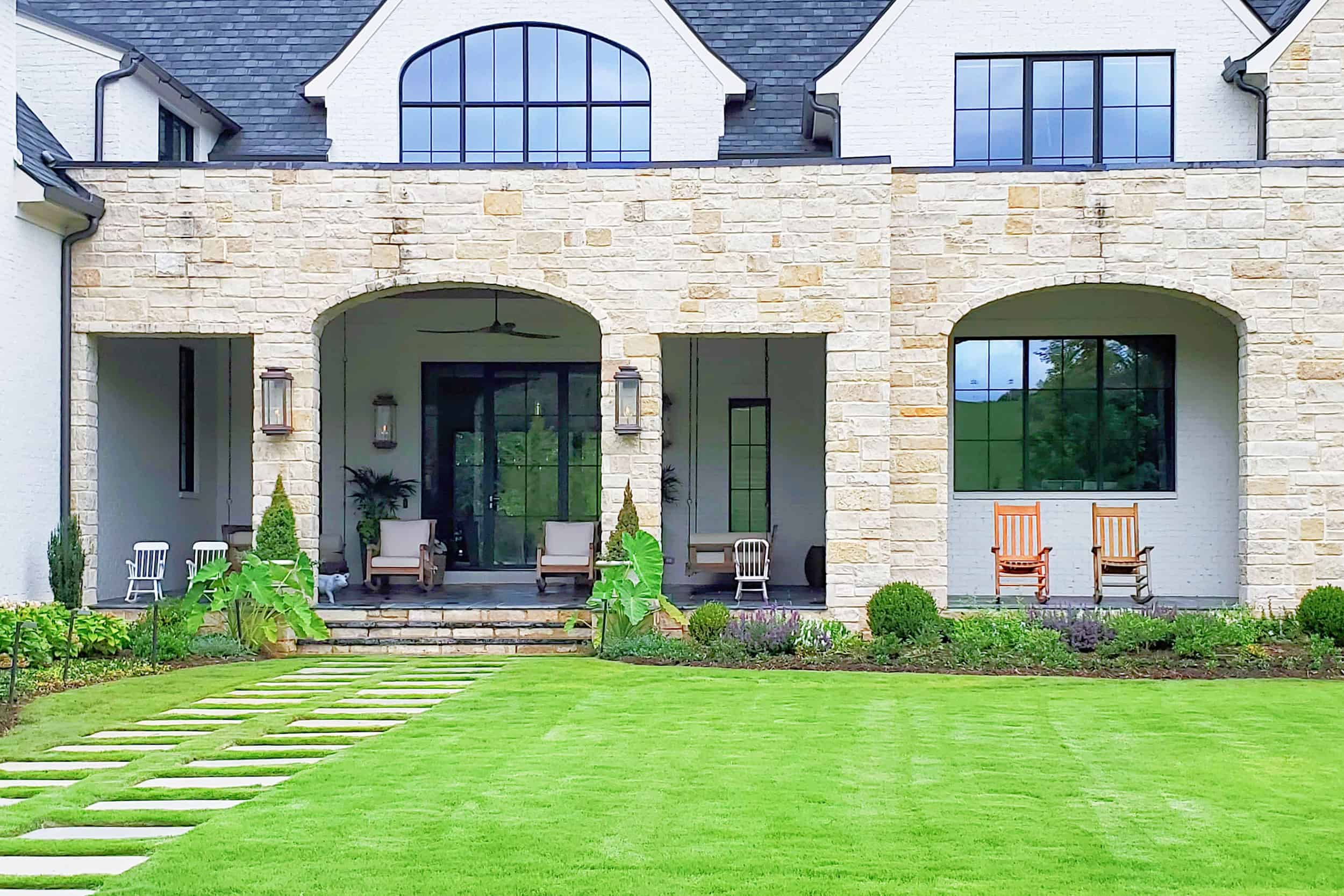 This newly planted front bed combines a mix of evergreens for year-round form and structure, combined with a display of annuals, hydrangeas, and perennials. The evergreens are English boxwood, pencil holly, gardenia, and an espaliered sasanqua.
Hydrangeas, Angelonia, ajuga, and blue daze were planted with blue and white flower color scheme that the homeowners desired. We arranged the plants as not to hide the beautifully furnished porch and the limestone facade of the house. For inspiration, we studied historic gardens and castles of England.
The 2 pictures show the same flower bed in early spring and in summer. Even the light is different. Early spring is highlighted with purple snapdragons and white pansies, which were planted in the fall. The summer border (lower picture) has yellow coreopsis, red pentas, and caladiums.
Notice, the white perennial shasta daisies are blooming in both pictures. The rustic stone border gives the planting a permanent structure and prevents mulch from spilling onto the walk.
"We have loved working with Marta of Greenland Landscape & Masonry! We had no clue where to start with our yard. Marta designed a landscape blueprint for our yard, placing the plants that we wanted. The absolute best part of Greenland Landscape & Masonry is that they just don't plant everything and then leave you! Marta comes back in the spring and fall to install new annuals, pruning, and upkeep. They also have a quick response time."
- Julieanne Tucker
Google Review
Combining Landscaping & Masonry to Surround Your Home with Beauty
We are Full-service Landscape Design and Build Experts