The traditional tiered fountain always remains popular because of the pleasant sound of water splashing, and its' versatility to fit in many landscape settings, both formal and natural.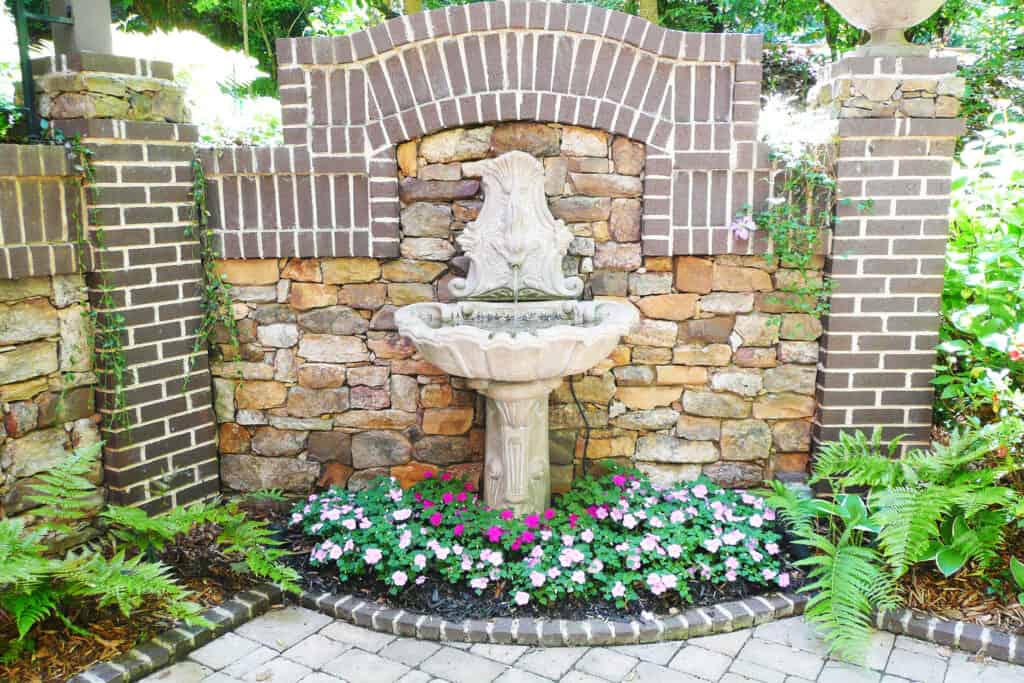 Some of our clients have their own pieces that we incorporate into their landscape, while others have us do the shopping, using our design experience to decide on the style, size, and colors of statues, fountains, and pottery.
We shop at several local wholesale suppliers and on-line, so the selection is almost unlimited.
Contact Greenland Landscaping & Masonry today so that we can schedule an appointment to help make your Church Garden dreams come true. Not only will you love the result, but we know you will enjoy working with a company so dedicated towards this specialized form of landscaping. We look forward to talking with you.
"Marta and her team from Greenland Landscape & Masonry worked with us at Buford Presbyterian Church in Buford to enhance the Memory Garden by adding a raised bed to be used for interment of ashes. They were so easy to work with to create an updated garden that fit in beautifully with the existing church building. This work was done in 2018 and looks more beautiful each year."
- Jo Ann Blount
Facebook Review
"We are so blessed to have our labyrinth that was done by Greenland Landscape & Masonry. They have done an awesome job. It is a beautiful outdoor labyrinth. Not only has it become a place for prayer and reflection for our own church members, but it also has become an outreach program because many people from the outside community come to this place for prayer and meditation. We have made it a place for the neighborhood to enjoy."
- Father Edgar Otero
Video Review
Combining Landscaping & Masonry to Surround Your Home with Beauty
We are Full-service Landscape Design and Build Experts